I'm not usually a pink and hearts kind of girl, but I have to say I'm changing my mind this year! Pink is really growing on me. It's such a great compliment to my favorite teals and mint colors and therefore it's starting to have a standalone place in my quilt stash (and even in my wardrobe!). So, I guess I'm converted!
With this newfound enjoyment of pinks and corals, I'm also finding a new appreciation for heart quilts. So I want to share a few of my favorites (in no particular order) here with you. With Valentine's Day just on the horizon, let me know which inspires you!
Love Letters Quilt by Jessica Dayon
I am loving this quilt! Jessica used the Down Memory Lane pattern from Acqua Paisley Studio and the Love Letters line of fabric from Lindsey Wilkes. The combination is beautiful! Naturally I am smitten here with the pink and mint combination. 🙂 The colors and hearts remind me of the conversation hearts that I used to have this time of year as a kid. You can check out Jessica's post here.
2. Quilty Hearts from Quilty Love
I love the simplicity of this heart quilt. Simple four patches set on point. And what a beautiful result! This is sweet in any color and a way to use up those scraps! Find the pattern here.
3. Scrappy Hearts from Quilty Love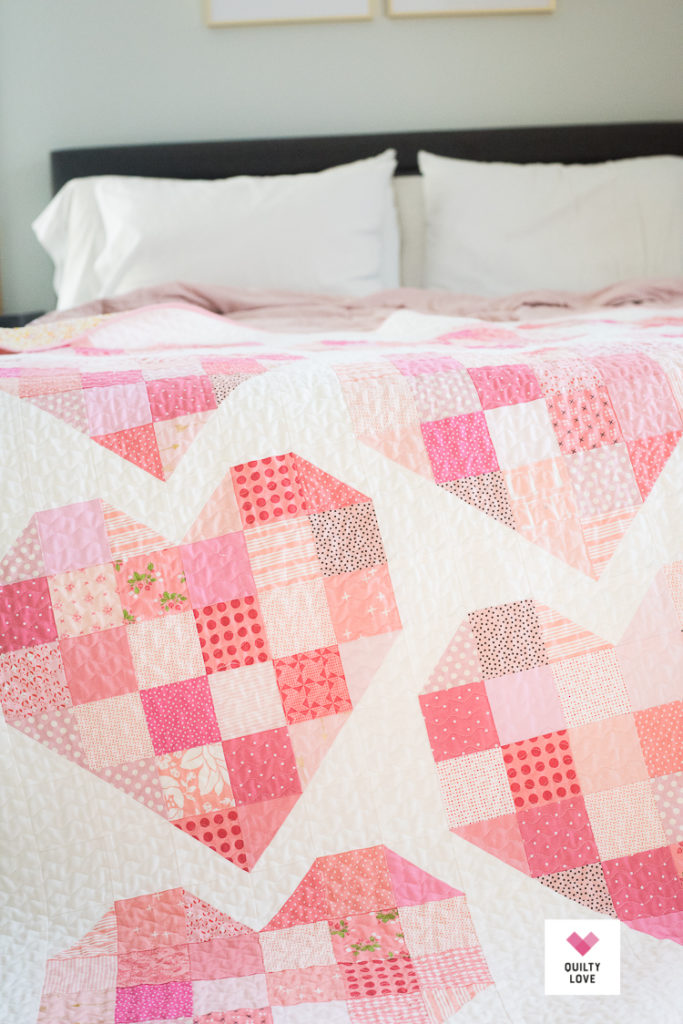 Love this cute new scrappy pattern for 2020 from Quilty Love! There is a quilt along going on for this one from Jan 20 to Feb 14 and I'm looking forward to seeing all the great versions on Instagram. This one could be adorable in monochromatic schemes of any color as well as coordinating scraps. You can find the pattern and quilt along information here.
4. I Heart You from Then Came June and Pen + Paper Patterns
This version of the I Heart You quilt is my favorite! I love the way Jenn from Fabric, Ink. took this one beyond the pinks and Valentine's Day. She shares a great story about this one being "an ode to her stash" and you can read a little more here. Love it! The color variety and combinations she has in this version are beautiful! You can find the pattern here.
5. Box of Hearts from Cluck Cluck Sew
I love the color and print combination possibilities in this fun offset hearts pattern. I like the simple piecing of these blocks. And this style of creating a block I find so relatable! A great modern twist to a traditional idea. You can find the story from Cluck Cluck Sew and pattern here.
I hope you also found some inspiration in these!
Happy Quilting!
Katie